Reflections, scenarios and interviews – summary report of GLC student workshop
Reflections, scenarios and interviews – summary report of GLC student workshop
21.08.17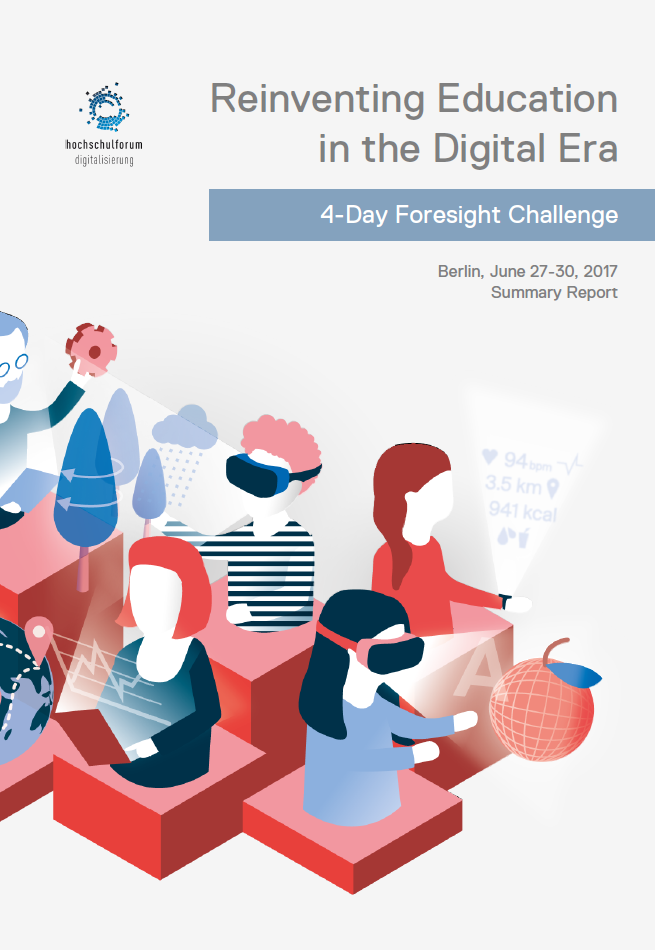 From 27 to 30 June 2017, a group of 21 students from 11 countries participated in our workshop event "Reinventing education in the digital era". They developed scenarios for how education might look like in 2037 and presented them at the Global Learning Council Summit 2017. We have now produced a report that summarises the workshop results and contains many interviews and reflections from the workshop participants.
What role will education play in the future? How do you imagine the future of digital and nondigital learning? Can digitisation of education create equal opportunities for all? What is your vision for an update of the education system? These questions and many more were the basis of the 4-Day Foresight Challenge that took place from 27 June to 30 June in Berlin, Germany. The Foresight Challenge brought together a small group of selected students from several countries from all over Europe, as well as from India, Egypt, Nigeria and the United States to envision what the future of education could look like in an era of fast digitisation. While the first day was a get-together and all about exchanging ideas, thoughts and personal backgrounds, the second day was the main workshop day.
Invitation to discuss the future of education and meet with peers
The workshop started with impulses on the current state of the world and the technological advancements that are already in place today in fields such as robotics, augmented reality, 3D printing, Artificial Intelligence and many more. Students then developed their personal education timeline, what it would look like if they were born today. With these impulses, students then worked in parallel in four groups on future scenarios based on the guiding question of what education would look like in 20 years' time. Their results were combined in one overall visualization that resembles the four perspectives in one view. The students had the opportunity to present their outcomes at the reception of the Global Learning Council Summit to an international audience of experts in the field of education. We also published the visualization of the future scenarios and corresponding explanations in our blog.
On the third and fourth day of the Foresight Challenge, students attended the Global Learning Council Summit, not only to listen to and hear from international experts about the impact of digitisation on education, but they also had the chance to talk to many of them and gain further insights into the topics.
Reflections, scenarios and interviews
The summary report aims to share insights into the 4- Day journey and to share the results from the main workshop with the developed future scenarios. Moreover, the report includes contributions from the participating students, who conducted interviews with experts and wrote statements and reflections. The personal views provide partially critical aspects, as it states Estevan Vilar, student at ESCP Europe Business School London, Madrid, Berlin: "Overall, the Global Learning Council Summit was an excellent chance to get an insight into the state of education worldwide. It was also a great opportunity to see what education is still lacking and which areas leaders of tomorrow should focus their energy on." However, the student workshop also created a feeling of togetherness among the students as it describes Joshua: "Let us be part of implementing digitisation in our universities."