Teacher education in and for the digital age: best practices and the role of universities in educating teachers for a digitalized world
Bild: [https://unsplash.com/photos/gcsNOsPEXfs William Iven]


Background
So that future teachers later on the job can guide pupils into a world increasingly shaped by digitalization, teacher education programs must lay relevant foundations for developing digital competence and pedagogical media skills. Those studying to be teachers should therefore be trained right from the start of their education in the use and the pedagogical-didactic implementation of digital technologies. Besides these capabilities, the future teacher must also be able to transition from the university to teaching practice and then as classroom teachers with an open mind and a willingness to experiment vis a vis the rapidly changing digital landscape.
Procedere
The Teacher Education and Digitalization Ad Hoc Working Group was constituted with 12 experts from university, teaching practice, foundations, and government. From July 2017 to June 2018 it convened four meetings to work on the goals, contents, and products of the Working Group. Illustrating effective university practice to guide universities became an important focus. From this evolved the survey study on digitalization in teacher education. Utilizing best practice criteria, 11 select example practices that integrate and foster digital and media-pedagogic competence in teacher education were described and analyzed.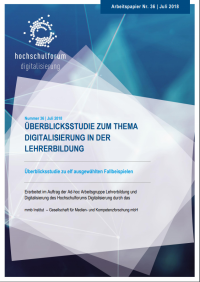 In parallel, the Teacher Education Monitor (also a member of the Working Group) carried out a special survey of the states and universities in the winter of 2017-18 to assess the extent to which the use of digital media in teacher education programs is regulated and under what framework conditions. The data gathered at the time did not yet show a comprehensive anchoring of content on the use of digital media in teacher education.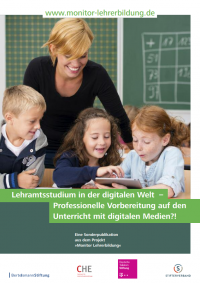 From the survey study and the special survey by the Teacher Education Monitor it was possible to derive and bundle topics in a working paper as special postulates for the role of universities in teacher education for a digitalized world.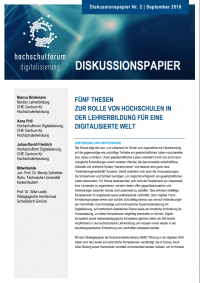 Other outputs in the context of teacher education and digitalization by Working Group members
Article Synergie-Magazin: Fachartikel Lehrerinnen- und Lehrerbildung für die digitale Zukunft I Mandy Schiefner-Rohs und Autorinnen- und Autorengruppe
Blogpost: Lehramtsstudierende fit machen für die digitale Schule - Änderungsvorschläge für ein beharrliches System
Blogpost: Digitale Medien in der Lehrerbildung: Ein Gespräch mit Jun.-Prof. Dr. Mandy Schiefner-Rohs
Seminar leader geography, Beethoven-Gymnasium Berlin and 1. SPS Neukölln
Project Assistant Monitor Lehrerbildung, CHE Centrum für Hochschulentwicklung gGmbH
Student of educational science, Kreidestaub e. V.
Head of Teaching and Young Academics Program Area, Stifterverband für die deutsche Wissenschaft
Professor of Mathematics and its Didactics, Pädagogische Hochschule Schwäbisch Gmünd
Prof. Dr. Katharina Scheiter
Head of the Multiple Representation Working Group, Leibniz-Institut für Wissensmedien Tübingen
Jun.- Prof. Dr. Mandy Schiefner-Rohs (Speaker of the working group)
Junior professor of pedagogy with focus on school development, TU Kaiserslautern
Headmistress of Gesamtschule Xanten-Sonsbeck
Head of project Forum Bildung Digitalisierung
Prof. Dr. Isabell van Ackeren
Prorector for Studies and Teaching, Universität Duisburg-Essen
Managing Director Deutsche Telekom Stiftung
Project Manager at the Ministry of Science, Research and Arts Baden-Württemberg; Referat 43 - Pädagogische Hochschulen, Lehrerbildung