The Hochschulforum Digitalisierung brings teachers, university staff and students together within its Network for Higher Education Teaching. It is a vehicle for exchange across disciplines and universities and aims at skill building for digital teaching and learning.
A Germany-wide network
With the Network for Higher Education Teaching, HFD offers a nationwide platform for exchanging experiences and building skills in digital teaching and learning across disciplines and universities. Our network primarily addresses university teachers, students and employees of supporting institutions. We stress networking and welcome the dynamics of new ideas and concepts.
Beyond that, our community provides opportunities for accessing productive continued education in the form of Summer Schools, various exchange formats, and an annual network meeting that facilitates exchanging experiences and mutual learning. The network supports the dissemination of proven solution approaches and simultaneously brings into sharp relief what hurdles and challenges still impede implementation in some places. By doing so, it also articulates a linkage between the work done in the universities and HFD's work processes and findings. To further promote skill building outside the network, the network community supports its members in acting as multipliers at their universities on the topic of teaching and learning in the digital age.
The HFD network online community is growing steadily and its members constantly engage on Mattermost, the information and instant messaging platform. On it, the latest developments in higher education teaching in the digital age are discussed, teaching experiences exchanged and current topic-specialized publications and events are announced. If you want to use Mattermost, simply sign on to the Network!
You were nominated by your university for participation in the network or are interested in learning more on your own about higher education in the digital age, engage in exchanges and networking? Simply sign up on our data base [German] [1]. We look forward to being in touch with you!
Current
HFDcert – the HFD Community Certificate: [2] HFD is developing HFDcert as a Germany-wide online platform on which teachers and staff of educational and support institutions can have their digital teaching activities certified through a peer-review process and documented in an online portfolio. Be there from the start as a member of the community -- register now [German] [3] for the beta version starting in December 2018.
HFD Hangouts: [4] The HFD Hangout is an online meeting place for any interested members of the Network for Higher Education Teaching. The format offers regularly scheduled opportunities for informal exchanges within the community. Network members pick the topics. In the most recent HFD Hangout on 15 October 2018, Lisa Ulzheimer presented a blended learning concept from the Mainz University medical school "Medicine in the digital age".
Digital Learning Map: [5] This database presents select teach-learn scenarios in which German universities are integrating digital media. The Digital Learning Map therefore offers an overview of innovative projects and best-practice cases from the perspective of different disciplines and institutions of higher learning that can be easily found and examined on an online geographical map. The database, which was developed in cooperation with e-teaching.org [German] [6] and the Digital Learning Map 2020 [German] [7] project of the Leibniz-Institut für Wissensmedien (IWM), shows specific contact points for potential cooperations. It simplifies and promotes an university- and discipline-spanning exchange of information among academic stakeholders but also is there to inspire anyone wanting to take a first look at the subject. If you want to propose a teaching model from your own practice or digital teaching ideas at your university that you think have model attributes for the Digital Learning Map, simply email us at learningmap[at]hochschulforum.org.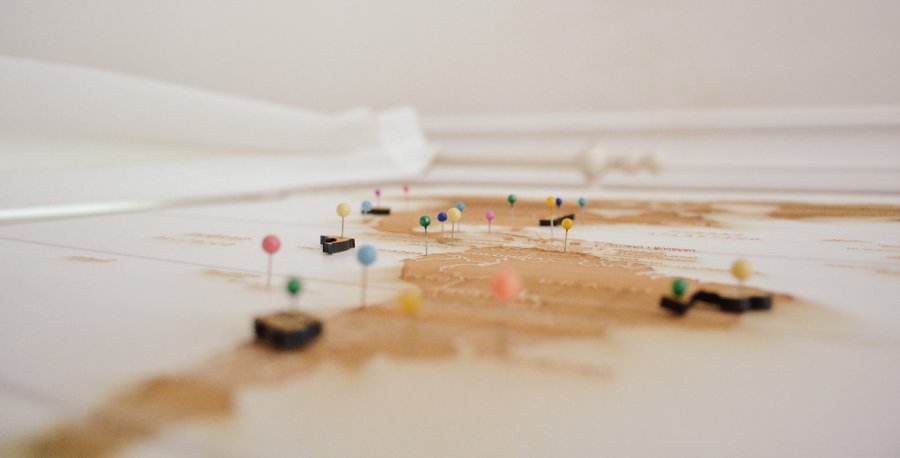 Picture: [https://unsplash.com/photos/vfzfavUZmfc delfi de la Rua] [8]
Retrospective
2018 network meeting: [9] After a successful kickoff in 2017, the second annual event took place in Berlin on 25 September 2018. In workshops and open BarCamps participants came to grips with questions and problems in digital teaching and learning and commenced a university-spanning dialogue. In our look back [German] [10] at the network meeting you will find videos, photos, and workshop documentation.
HFD 2018 summer school: [11] This year's HFD Summer School ran from 25 to 27 July 2018, letting participants exchange experiences and learn from and with one another how digitalization shapes teaching and learning at their respective universities and how it can be promoted. In our look back [German] [12] at the HFD Summer School you can find videos, photos, and documentation for the workshops and flash talks.
HFD 2017 winter school: [13] A first for HFD, this school ran from 4 to 6 December, bringing together participants from teaching as well as media and education centers. You can get an impression of the three days' happenings from our look back [German] [14] at the HFD Winter School.
2017 network meeting: [15] On 11 September 2017, HFD invited to the launch of the Network for Higher Education Teaching. We put together an inclusive retrospective [German] [16] of the meeting here – with videos, pictures, presentations and workshop documentation.
Core team members
Our core team of experts in digital teaching and learning supports HFD in choosing key topics and by designing and implementing the workshops, Summer Schools and annual network meeting.
Interdisziplinäres Kolleg Hochschuldidaktik, Goethe-Universität Frankfurt, GMW Fellow
Executive Board Netzwerk Hochschuldidaktische Weiterbildung Nordrhein-Westfalen (hdw nrw), FH Bielefeld
Head of Office Digitale Hochschule NRW
Coordinator and MOOC-Maker oncampus, FH Lübeck
Managing Director Virtueller Campus Rheinland-Pfalz (VCRP)
Managing Director E-Learning NRW, Universität Duisburg-Essen
Managing Director Multimedia Kontor Hamburg
Prof. Dr.-Ing. Rolf Granow
Managing Director oncampus, FH Lübeck
Professor of English and Computational Linguistics, Philipps-Universität Marburg
Management Director Akademie für wissenschaftliche Weiterbildung, TH Köln
Research Assistant at Zentrum für multimediales Lehren und Lernen, Martin-Luther-Universität Halle-Wittenberg, Co-Moderatorin AG E-Learning des Verbundprojekts HET LSA
Management Director ELAN e.V.
MOOC-Maker oncampus, FH Lübeck
Professor of Engineering Mathematics and Computer Engineering, FH Bielefeld
Prof. Dr.-Ing. Ulrike Lucke
Professor for Complex Multimedia Application Architectures, Universität Potsdam
Prof. Dr. Joachim Metzner
Chairman of the Network, Rector em. of TH Köln
Prof. Dr.-Ing. Heribert Nacken
Rectorate Representative Blended Learning, RWTH Aachen
Academic Advisor, Research Assistant, Johannes Gutenberg-Universität Mainz
Head of e-teaching.org, Leibniz-Institut für Wissensmedien (IWM)
Coordination E-Learning Consulting, Center für Digitale Systeme (CeDiS), Freie Universität Berlin
Management Director Virtuelle Hochschule Bayern (vhb)
Research Assistant E-Learning NRW, Universität Duisburg-Essen