Hochschulforum Digitalisierung explores current issues through ad hoc working groups made up of renowned experts, who have one year to work on concrete questions and problems to develop new solutions and courses of action for specific challenges. The findings of these working groups are made available to the public through studies, guidelines and other publications. The focus is on providing German HEIs with ideas and security as they build and expand their digital teaching services. The issues are determined anew each year by the three HFD partners.
From summer 2017 to summer 2018, the following working groups are in place: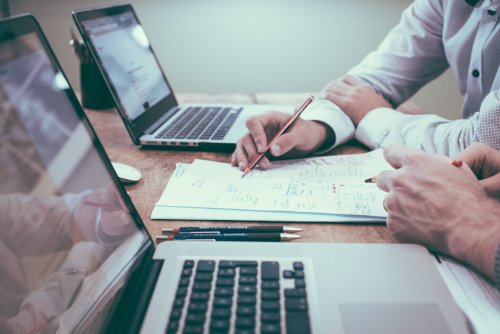 Bild: [https://unsplash.com/photos/5fNmWej4tAA Helloquence] [1]
Teacher education and digitalisation
Digitalisation is leading to fundamental changes in education – changes that education institutions must respond to. Frequently, there is a lack of resources and concepts for promoting digital and media skills to prepare students and pupils for these new challenges. For example, neither of the three stages of teacher education in Germany – (1) university education, (2) preparatory service, (3) postgraduate and continuing education – currently provides teachers with many tools for embedding digital and media skills in their teaching. Therefore, the goal of the working group on teacher education and digitalisation, which is hosted by CHE, is to initially collect data on current problems and needs for action with regard to a comprehensive system covering all stages of teacher education in the digital age in order to develop, as a next step, ideal-typical concepts and models for integrating digital and media literacy into the first stage – (1) university education – of teacher training.
Contact: Anne Prill [2]
Curriculum 4.0 – Curriculum development in the 21st century
The growing digitalisation of society and the labour market means that higher education graduates are expected to have a new set of skills. The workplace of the future will increasingly be an interdisciplinary, interprofessional and technology-driven one. HEIs should react to these changes. The goal of this working group, which is hosted by Stifterverband, is to highlight scenarios and best practice cases from various disciplines illustrating how HEIs can design curricular reforms. The focus is on the core areas of the curriculum: goals, methods and – to the extent to which this is possible without addressing specific fields of study – contents. The approach explicitly encompasses the entire process of curriculum development. To this end, the members of the working group study various reform projects, including those funded in the Curriculum 4.0 programme.
Contact: Sebastian Horndasch [3]
Recognition and transfer credit for digital teaching formats
The complex fields of 'recognition' and 'transfer credit' have long been an issue at higher education institutions and are not a problem specific to digitalisation. However, progressive digitalisation and the growing opportunities for acquiring knowledge and skills through digital offerings outside formal higher education have made the problems related to recognition and transfer credit even more acute. This working group, which is hosted by the HRK, deals especially with the recognition of digital skills acquired outside formal higher education and certified through badges or e-portfolios, for example. Here, the working group will look at possible criteria for the recognition of such formats and share its findings with higher education institutions to help them develop such criteria more quickly. The goal of the working group is to highlight best practice cases and to develop a set of criteria to enable HEIs to perform in-house assessments of digital formats.
Contact: Martin Rademacher [4]