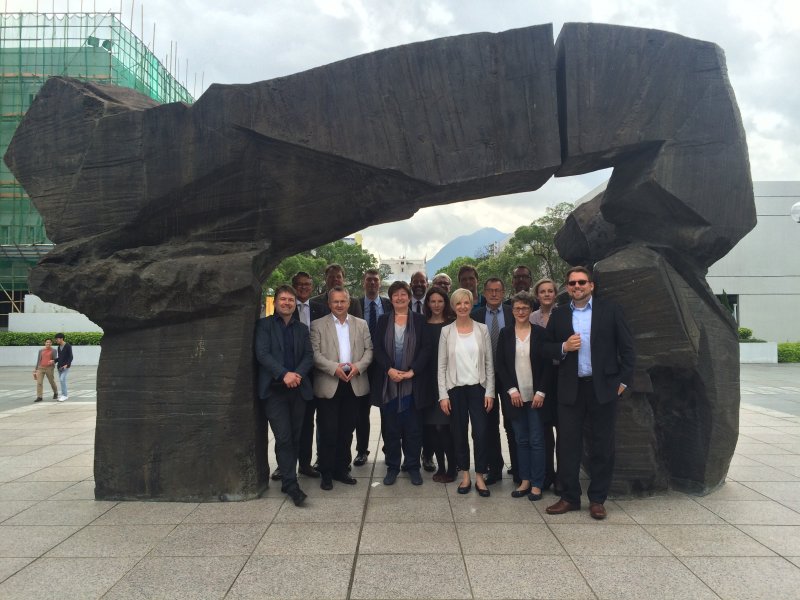 The participants of the delegation visit (left to right):Oliver Janoschka, Volker Meyer-Guckel, Ulf-Daniel Ehlers, Udo Mechalik, Hans Pongratz, Dorothea Rüland, Sönke Knutzen, Barbara Getto, Martin Wirsing, Susanne Weissmann, Andreas Bertram, Friedrich W. Hesse, Gudrun Oevel, Hans-Josef Linkens, Isabel Schünemann, Philipp Höllermann [1]
Stifterverband and Hochschulforum Digitalisierung, with support of the Reinhard Frank Foundation, organised a high-profile visit for a delgation composed of representatives of German higher education institutions, research organisations and politics to Southeast Asia. The goal of the trip was to gain a better understanding on how actors from higher education institutions and politics shape and handle the digital tranformation. The particular political and socio-cultural context, as well as the dynamic drive of the digitisation in these countries was an highly informative and inspiring for the members of the delegation.
Blog
The participants of the visit discussed their findings and insights in several blog-articles which can be accessed here [2].
Sönke Knutzen's thoughts on the trip
Presentations
Some of the presentations held during the visit can be accessed here [3].
Videos
The delegation conducted interviews with several key actors at the higher education institutions that were visited.
Lee Sing Kong, Vice President (Education Strategies), Nanyang Technological University, Singapore
Chng Huan Hoon, Associate Provost (Undergraduate Education), National University of Singapore
Adrian M. Lee, Director of the Centre for the Development of Teaching and Learning, National University of Singapore
Photos