Strengthening digitization-related competencies through openness in teaching and the use of OER is one of the objectives of the "University Network for Digital Teaching and Learning in Teacher Education" (digiLL [1]). The association also wants to promote the establishment and expansion of a wider network. digiLL presented itself and its work at the University:Future Festival 2021 - and now also here in our blog series!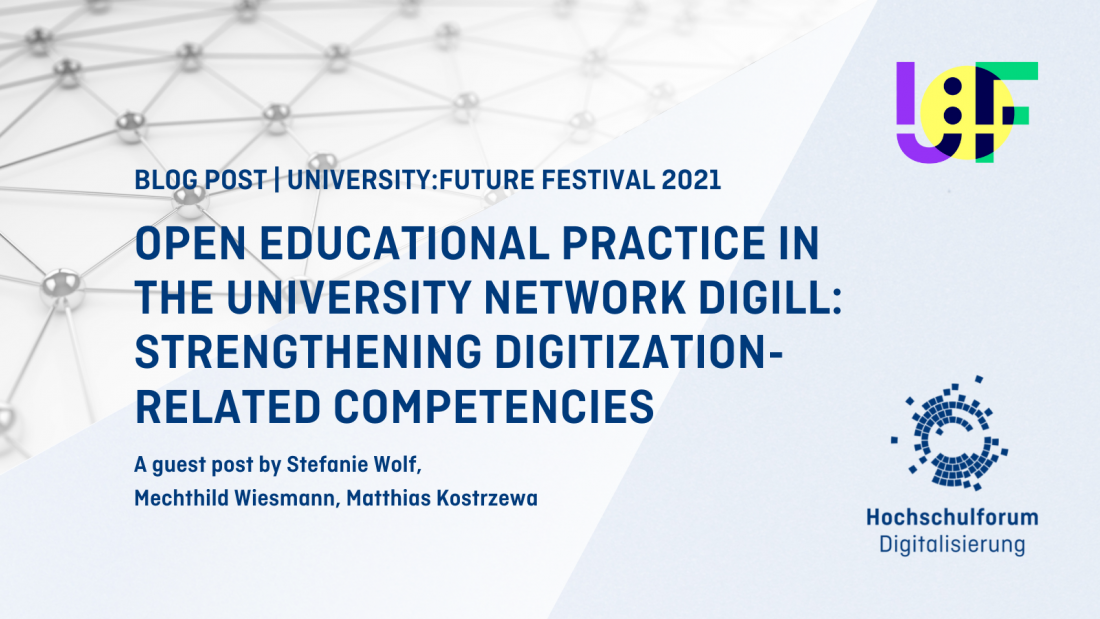 [2]
The "University Network for Digital Teaching and Learning in Teacher Education" (digiLL [1]) was launched at the end of 2016 as a joint initiative of the teacher training centers/schools of education at the universities of Bochum, Dortmund, Duisburg-Essen, Cologne and Münster. The goals of the alliance are to establish and expand a network to strengthen digital teaching and to promote the digitization-related competencies of teachers and learners. Since the beginning of 2019, five additional locations have joined so far (Bonn, Erfurt, Jena, Landau and Trier).
In the U:FF session with more than 60 participants, the university network digiLL was presented on the basis of theses and the question of how digiLL as Open Educational Practice can contribute to more openness in university teacher:ing education was discussed. These core theses are explained in more detail in the article.
1. Working/learning in the digital age works only/better in networks.
The development of digitization-related competencies among student teachers and the integration of offerings into university teacher training is a central concern of digiLL. Due to the speed and intensity of the digital transformation, the participating sites are pooling their resources and expertise in order to jointly meet the emerging challenges. digiLL has so far run without funding and is supported by the commitment of the centers. Therefore, the network uses the university's own infrastructures (LMS). The core of digiLL is the creation of compact OER learning modules, which are developed according to common content and structural criteria.
2. Open Educational Resources (OER) are the best foundation for collaborative learning material creation.
To ensure that the content created in digiLL can be used by all sites - and beyond - open licenses and open access play a central role. All digiLL modules are licensed under CC BY-SA or CC BY. Further use and development of the modules is explicitly desired. Thus, the modules can be used, processed, mixed and distributed in different contexts and also fulfill the 5V freedoms according to Wiley (OERinfo 2015) for Open Content. In addition, all learning modules are freely available without registration or access data.
3. Work in the Verbund moves in the area of tension between clear organization and agility.
On the part of the centers, one or more commissioners and one person from the management are active in each case. The non-funded work in the network is done out of intrinsic motivation. This requires agile work and collaboration in order to jointly design a high-quality learning offer for interested parties in a solution-oriented manner and with scarce resources. For this purpose, a trelloboard is used and the task packages are distributed among the participating sites in a competence- and resource-oriented manner.
4. Perspectives from all phases of teacher:ing ensure a diverse range of topics.
The digiLL offer is primarily aimed at student teachers, teachers (in the preparatory service) and lecturers in teacher education. Since all learning modules are licensed as OER, the offerings can also be used by anyone else interested in the topic of digital teaching and learning.
5. OER gains prominence in teacher education when students and teachers of all phases are involved in content creation.
In addition to lecturers and experts from the individual locations, trained teachers are also involved in the creation of modules. The representatives of the individual locations provide technical and media-didactic support in the implementation of the learning modules. Students are also involved in the creation of learning modules in projects (examples: special focus areas [3] or IT certificate for teachers [4]) so that they can develop their digitization-related skills.
6. Many university partners are a guarantee for quality and trust.
In order to ensure the quality of the learning modules and their comparability, the joint project defined framework conditions and common principles for the production of the learning modules as well as a quality assurance procedure.
This begins even before the production of a new learning module, for which the following criteria must be met:
free accessibility
Publication as OER
Observance of barrier-free principles
provision of short modules
uniform frame design
During and after production, selected partners check the newly created learning module against agreed principles such as usability, correctness of content, and interactivity using checklists. For further development, the learning modules are evaluated in focus groups.
7. Open Educational Practice (OEP) is more than the use of OER.
OER is a part of Open Education. "Behind this is a [different,] new culture of didactics that includes the joint design of teaching and learning processes and teaching and learning at eye level. Thinking about such didactic issues is often first triggered by the production of OER." (Mayrberger 2019)
Our goal is to further expand the existing network and create an extensive, ever-growing digital offering. Therefore, universities throughout Germany are invited to participate in digiLL and contribute their different strengths.
Sources:
Mayrberger (2019). Open Educational Practices ist viel mehr als nur der Einsatz von Open Educational Resources. Online unter: https://blog.bildungsserver.de/open-educational-practices-ist [5] viel-mehr-als-nur-der-einsatz-von-open-educational-resources/ (09.12.2021).
OERinfo (2015). Zur Definition von «Open» in «Open Educational Resources». Die 5 R-Freiheiten nach David Wiley auf Deutsch als die 5 V-Freiheiten. Online unter: https://open-educational [6] resources.de/5rs-auf-deutsch/ (09.12.2021).
Dieser Text steht unter der Lizenz Creative Commons Namensnennung - Weitergabe unter gleichen Bedingungen 4.0 International -
CC BY-SA 4.0
[7]
. Bitte nennen Sie bei einer möglichen Nachnutzung den angegebenen Autorennamen sowie als Quelle das Hochschulforum Digitalisierung.