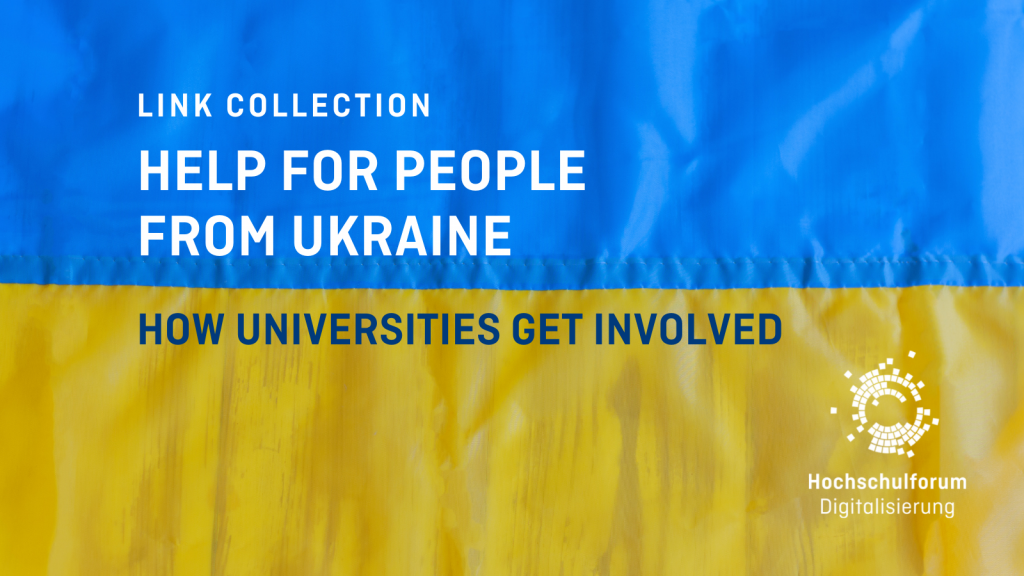 [1]The Kremlin's attack on Ukraine is shocking. But as stunned as the situation and the view of the news situation makes us, the willingness to help strikes us as equally impressive. The offer is growing daily and digital possibilities such as Twitter are also being used highly creatively to inform and organise offers of help, as our list of offers of help for university staff shows.
The universities also reacted within a very short time. The German Rectors' Conference assured the Ukrainian universities of its solidarity [2] and the Association of University Teachers also called for support [3] for students and academics from the war zones. Mecklenburg-Western Pomerania declared its intention to set up a science bridge for Ukrainian students and academics [4] together with the universities and colleges of the federal state. A joint declaration [5]was also published by the universities, non-university research institutions, student unions and the Brandenburg Ministry of Science. A networking platform is to be set up.
At many universities throughout the country, other aid programmes were launched and implemented in parallel. We have compiled an overview of some of the support measures that inspire and show us: The community stands together and jointly develops concepts to support Ukrainian university members and give them long-term perspectives.
In other countries, universities are also organizing assistance. In the Twente region of the Netherlands exists an alliance between the government, businesses and educational partners, including Twente University and Saxion University of Applied Sciences. This alliance offers support to the more than 250 Ukrainian and Russian students living in Twente [6]. The University of New Europe (UNE) has compiled a list of support services for academics and cultural workers [7], which is updated regularly.
Together we know more: If you know of any other help offers, we would appreciate it if you could post them (preferably with a link) in the comments section of this article. Thank you!
The German Academic Exchange Service (DAAD) is also committed to helping refugee students [32]and has compiled a list of support services [33]offered by its partners and international higher education institutions, and offers a scholarship search [34] [34]for those affected on its website.
Dieser Text steht unter der Lizenz Creative Commons Namensnennung - Weitergabe unter gleichen Bedingungen 4.0 International -
CC BY-SA 4.0
[47]
. Bitte nennen Sie bei einer möglichen Nachnutzung den angegebenen Autorennamen sowie als Quelle das Hochschulforum Digitalisierung.