The updated Digital Education Action Plan (2021-2027) of the European Commission [1] was published in September 2020. The publication was preceded for the first time by a [2] public consultation [2] due to the effects of the Corona crisis on almost all stakeholders in the field of (digital) education. In the following interview with HFD, Dr. Georgi Dimitrov, Deputy Head of the Innovation and EIT Unit of the European Commission and project team leader for the new edition of the European Digital Education Action Plan (DEAP), answers questions about his vision for high-quality, inclusive and accessible digital education in Europe.
What is the Digital Education Action Plan ?

The Digital Education Action Plan [3] (2021-2027) outlines the European Commission's vision for a high quality, inclusive and accessible digital education in Europe. It is a call for action for greater cooperation at European level, firstly to learn from the Corona crisis, where technology is being used on an unprecedented scale in education and training, and secondly to make education and training systems fit for the digital age.
HFD: Dear Mr. Dimitrov: What are the central goals of the EU Commission's digital education action plan?
Dimitrov: It is important for us to emphasize that digital education must be understood as an integral part of education. It is not a marginal or peripheral issue. The Digital Education Action Plan (DEAP) aims to make digital literacy a central part of the educational process and to anchor it permanently. This is important because digital education is by no means a new topic. Now it is a matter of drawing the central lessons from the current experience with Corona and taking a step forward.
People, Pedagogy and Partnerships
HFD: If you had to sum it up, what are the three keywords of the new DEAP?
Dimitrov: In English we speak of the three "Ps" that we want to address in DEAP: "People, Pedagogy and Partnership". The question is how we can help people of all ages to manage the massive impact of digitization and make the most of all the opportunities and challenges. A look at the labor market shows that 90% of future jobs in all sectors will require extensive digital skills. On the other hand, more than 35% of Europe's workers do not have basic digital skills. This shows the clear need for change. So we need to support measures at all levels - in school education, in universities & in vocational training - to promote digital literacy.
In the pedagogical context, the last six months have made it clear that we need digitally confident teachers who are able to deal critically with digital technologies. Basically, we need to support teachers to develop and enhance digital literacy, first during their education and later through professional development.
We also need to address the really important issue of partnerships. We believe that we cannot simply hand over digital education to teachers or those responsible in the ministries. Digital literacy is a challenge and is the responsibility of society as a whole. In addition to civil society, we must also hold the private sector to account. The latter benefits from a well-trained workforce. That is why it should also be involved in problem-solving.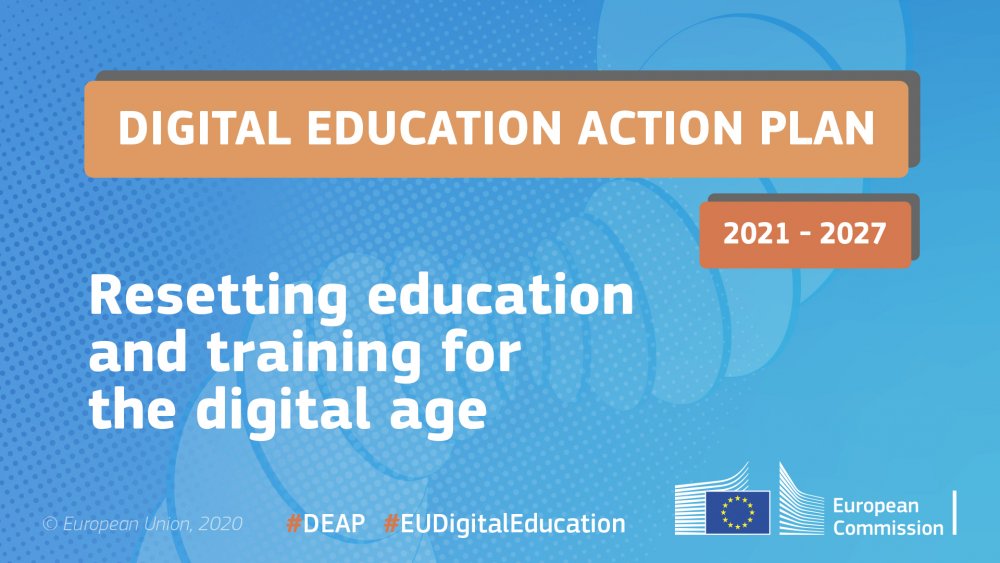 The updated version of the Digital Education Action Plan was published in October 2020. [4]
HFD: You have already mentioned the effects of the Corona crisis on the DEAP update. Of course, we wonder what this process would have looked like without the disruption in the education sector. So what lessons can we learn from the experiences during the Corona crisis and what have you learned?
Dimitrov: That is a good question, because it almost came to this - the action plan was actually supposed to be published in June this year. By the way, the DEAP Update was a priority of the Commission President von der Leyen in her political guidelines [5] last summer. The first consultations already took place and then came Corona. First of all, we took a step back and thought about how to deal with it.
Traditionally, the Commission's consultations have been aimed specifically at exchanging views with stakeholders from all areas, from primary education in schools and universities to lifelong learning. We also talk to political stakeholders such as the European Parliament and opinions from position papers are included. In this classic process the findings were not really surprising. We saw our interpretations of the needs confirmed, for example with regard to the labor market, by the long-term digital transformation.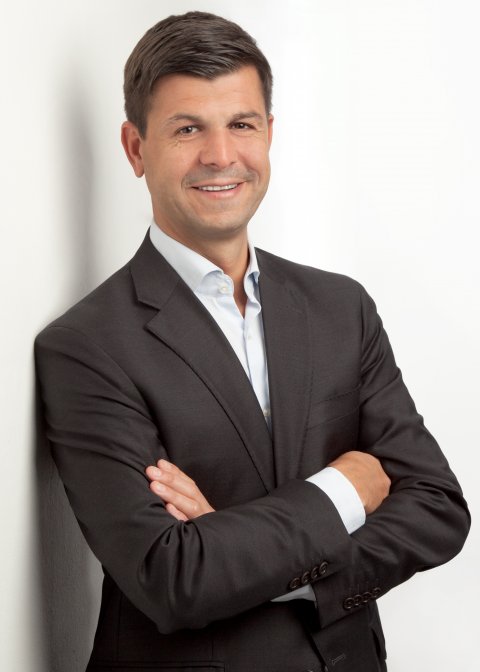 In an online interview Dr. Georgi Dimitrov describes his vision of good digital education for Europe and the plans of the EU Commission. [6]
Surprising findings from public consultation
One important outcome of the crisis was the holding of a public consultation [2] from June to September, which brought surprising findings. The echo with over 2700 contributions was great. Among them were over 200 position papers from a wide variety of organizations. During this process it became clear that the digital literacy of schools and especially the digital skills of teachers vary widely across Europe. Often they are not satisfactory in their current development.
The insights we gained from the public consultation process suggest that we could have solved some of these problems by more cooperation and exchange. Through the international exchange of diverse solutions and best practices, it became clear that the EU Commission has a special role to play: to offer the member states more support in this dialog on digital literacy. In the past three to four months we have had a very intensive and spontaneous exchange of ideas at ministerial level: How are other countries tackling problems? There was no structure for this. So a clear learning is to create more opportunities for this exchange and structured dialog.
HFD: What opportunities does the DEAP offer for the digitization of higher education - and HFD in particular - at German and European level? What can universities expect?
Dimitrov: First, we have proposed a measure to support Digital Transformation Plans, which are supported by funding from the Erasmus+ program. The idea is that the universities develop a strategy or a transformation plan.
Second, we propose a new structure, the Digital Education Hub. The idea for this was developed in a dialogue with various partners and was also actively encouraged by the HFD. We intend to offer a platform (hub) for intensive joint discussions on cross-cutting issues and hot topics such as interoperability and standards, and to arrive at solutions that could be of interest to all member states and universities.
A third example is the European Digital Education Content Framework. Linked to this is the idea of commissioning a feasibility study to provide answers to the question of what a European path to a platform for educational content could look like. The study is scheduled to start in early 2021. In view of existing platforms for online learning, particularly in the area of higher education, the question arises as to what the European perspective is on this. We are not naive enough to believe that we can simply conjure up a platform. Nevertheless, we believe that a European perspective is needed: do we want to be and remain dependent on non-European platforms? What should the European approach to platforms be? In any case, we can better link existing platforms like the AI Campus [7] and place them more in the European context.
HFD: Let's go back to the European Hub for Digital Education. What can we expect here, what are the next steps?
Dimitrov: The basic idea is to develop a long-term platform for exchange at EU level and, if necessary, a structure for this. At the beginning of 2021, we want to bring stakeholders together in a targeted manner to define a roadmap and agree on the milestones together.
Innovations and ideas bottom up: DigiEduHack
HFD: In the Action Plan for Digital Literacy you speak of it as a "think-and-do-tank", with the goal of supporting committed stakeholders in innovation, and in this context you mention the #DigiEduHack [8]. What are your objectives for this initiative and are other formats of this kind already being considered?
Dimitrov: We are very satisfied with the Hackathon, it is now running for the second year. Currently there are no other formats planned. We like the involvement and participation of the participants and the positive reference of the stakeholders very much, we would like to become wider and wider.
The think-and-do-tank is a vision for us. The European Hub is a workshop for modern ideas, where solutions can be seen again and again. With the Hub, we want to slowly move on and take up the idea of the laboratory as a field for experimentation and open co-creation. Admittedly, it is therefore not an immediate solution. The areas of digitization and innovation are very dynamic and we must therefore remain open to different approaches.
Develop innovations and impulses in the European Digital Education Hub. [9]

HFD: What hopes and expectations does the European Commission place in the updated Digital Education Action Plan?
Dimitrov: First of all, we should and must use the momentum now to take a good step forward in digital literacy. The topic is not new. Let's take the example of the socio-economic problem. Many children, teenagers and young adults do not have good conditions at home, do not attend a good school etc. Corona has simply highlighted this problem when many were cut off from the educational process and there is no one at home who can help. In addition, there is a lack of fast internet connections or suitable laptops. However, these issues existed before.
It is important for us to actively support the member states in dealing with the topic of digital education. It is currently on the political agenda. We can observe this in Germany through the education summits that Chancellor Angela Merkel holds with the education ministers. It is crucial that digital education remains on the political agenda.
Increasing innovation budgets
Second: More investment is needed in digital education, the need for this is immense, but it varies greatly from country to country. That is why we have brought out a new instrument: Next Generation EU and especially the Recovery and Resilience Facility [10]. This is a truly unique story, as the Commission is proposing a fund for the first time. The fund consists of grants and loans with a very large scale of about 670 billion euros. The Commission intends to put 20% of this fund into the area of digitization. It is clear to us that education is at the forefront of digitization. Investments in this area should flow: in connectivity, structures, training, AI and education - depending on needs and opportunities.
We must not leave digital education to the education ministries alone, because their ability to assert themselves vis-à-vis the finance ministries is sometimes not so great. That's why, in addition to the political aspect, it is important that we support digitization in education with financial resources.
Third: We want better, inclusive and high-quality education. Basically, it is about increasing opportunities: we want to take as many people with us as possible. We need to prepare for the future.
And my answer is sorted exactly in this order, because we are aware that our competences in this area are limited. We must remain realistic in this regard.
HFD: Does the situation also change something in your personal work? We at HFD have noticed how massive the changes have been for us, but also in university teaching, in recent months.
Dimitrov: Digital education is a matter of the heart for me. Actually, I had nothing to do with education before, but rather brought along the technical know-how. I have already seen a few attempts - also from the Commission, by the way - to spread digital education. My impression was always that there is a big translation problem: On the one hand there are the education theorists and pedagogues. They understand a lot about educational processes and didactics. And on the other side there are the techies. There is a lack of trust in each other. I believe that through factualization we can reduce the mistrust and bring these groups together.
In the coming months, I think we in the Commission will take a different approach to meet the demands of the Digital Education Action Plan. I can see that this room for maneuver is being created, and that makes our work both exciting and challenging at the same time.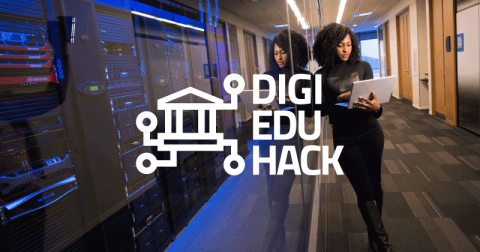 The European Hackathon takes place on November 12 and 13. [11]
HFD: Many thanks to Georgi Dimitrov for this insight also into the changing work of the Commission. There are both innovative and difficult actors in education. In dealing with the Corona crisis, things suddenly became possible. It was tried out and some problems were overcome because now not only the will but also the necessity is there.
Dimitrov: I can agree with that. I always have an example that I put in this context. I think that the digitization is very similar to the institutionalized internationalization 30 years ago at the universities. Internationalization was poured into processes, there are structures for it today, and various funding opportunities - it is now an integral part of university strategy. It is similar with digitization: it begins on the periphery, gradually and gradually with support from outside and the realization that digitization is really needed.
The integration of digital technologies and didactics will be a long process. This also includes continuing education, which must be strongly oriented towards digital skills. At some point, it will be normal and will become indispensable: After all, the international component of universities is now an indispensable part of our lives, too.
HFD: Almost like normalization and bringing digitization to the mainstream - exciting developments. We would like to thank you for this interview and will see you soon at the #DigiEduHack [8] on November 12 and 13.
Dieser Text steht unter der Lizenz Creative Commons Namensnennung - Weitergabe unter gleichen Bedingungen 4.0 International -
CC BY-SA 4.0
[19]
. Bitte nennen Sie bei einer möglichen Nachnutzung den angegebenen Autorennamen sowie als Quelle das Hochschulforum Digitalisierung.