Digitalisation should not be viewed as an additional challenge, but as a powerful means to meet existing challenges for higher education. This is the main argument of the position paper "Bologna Digital", a joint initiative supported by several higher education stakeholders including Hochschulforum Digitalisierung. It was published online ahead of the EHEA Ministerial Conference in Paris in May 2018.
Hochschulforum Digitalisierung is currently planning several activities in the context of "Bologna Digital", including the conference "Bologna goes Digital" organised by the German Academic Exchange Service (DAAD) in cooperation with Hochschulforum Digitalisierung, expert workshops, a new discussion paper and a delegation visit to the Netherlands. More information will follow soon.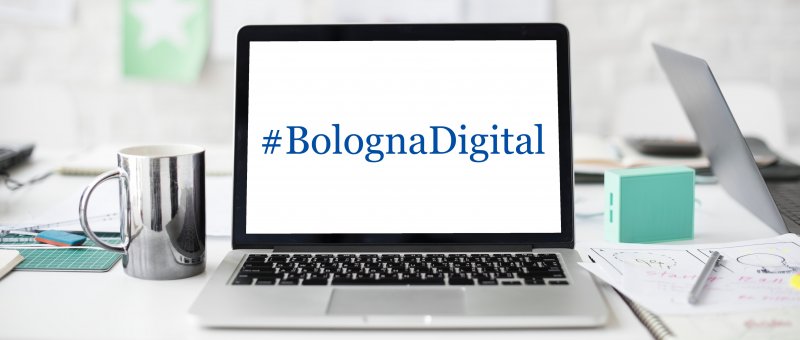 #BolognaDigital: Digitalisation as a powerful means to improve the Bologna Process


Twenty years after the Sorbonne Declaration, the key challenges of opening up higher education, improving the quality of teaching and learning, reforming assessment and recognition, and promoting internationalisation and mobility remain the same for all countries in the European Higher Education Area (EHEA). The authors and supporters of the position paper "Bologna Digital" argue that digitalisation can significantly contribute to overcoming them.
Digitalisation has not been ignored within the Bologna Process (for more on the Bologna Process see here). Policy-makers, individual higher education institutions and other education providers have been active. However, the full potential of digitalisation has not been reached on systemic level. This is partly due to digitalisation being viewed as an additional challenge, rather than a means to meet existing challenges for higher education. In order to emphasise this point, the position paper discusses digital solutions in the context of the main action lines of the Bologna Process. For each of these, it presents current challenges and discusses how digital solutions can contribute to solving them.
It is the aim of the authors and supporters of the position paper that the Paris Communiqu​é from the Ministers' Conference 24-25 May 2018 (for more see here), and the work programme which comes after it, should pay even more attention to the benefits, but also to the challenges related to the increasing digitalisation of our lives. Also the envisaged 'European Universities' should set examples in digitalising education, research and innovation.
Attaining a 'Bologna Digital' by 2020 is not a separate action line, but a cross-sectional goal which can improve higher education performance in all existing action lines.
Dieser Text steht unter der Lizenz Creative Commons Namensnennung - Weitergabe unter gleichen Bedingungen 4.0 International -
CC BY-SA 4.0
. Bitte nennen Sie bei einer möglichen Nachnutzung den angegebenen Autorennamen sowie als Quelle das Hochschulforum Digitalisierung.